Free shipping on orders over Rs.499
Specialty Coffee
Specialty Coffee is both an aspirational and value-oriented journey for Kruti Coffee.In its path of becoming India's leading specialty coffee brand.
◉ It doesn't pass any costs associated with specialty coffee transformation to it's panel farms, rather it bears the entire cost from hiring experts, training the farmers, providing desired equipment and infrastructure.
◉ Kruti Coffee ensures fair trade by compensating it's farms for business loss due to additional time and effort commitment towards specialty steps.
◉ Kruti Coffee ensures that all we improve steps across the coffee value chain from plant management to plucking cherries, drying on raised beds, rejecting defective lots and to roasting green beans is done as per standards set by SCA
◉ In order to ensure flawless last mile connectivity with a perfect brew, Kruti Coffee has developed a state of art experience center in the form of a specialty café in Patia, Bhubaneswar where coffee roasted inside the café and brewed to perfection by using best in class equipment ranging from grinders to hand brewing equipment.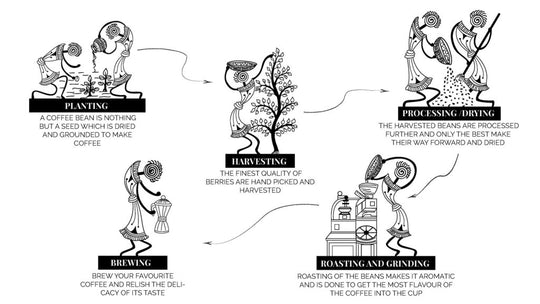 Specialty Coffee Farm Practices
Specilaty Coffee is a journey that needs attention across the value chain, most important being the farm management practices. Kruti Coffee monitors each of its panel farms thoughout the year and pays special attention during the harvesting season so that specialty standards are maintained from plucking cherries to drying, packaging and transportation of coffee. Then our panel curing unit processes all our washed and natural coffees into green beans and grades them into various categories. It's only the best that we select to be roasted at our in-house roastery by following SCA roasting standards.
Specialty Coffee Brewing
The culmination of a specialty coffee experience is the last mile connect between the the specialty barista and the customer. All baristas in Kruti Coffee are trained in specialty brewing methods and follow global standards across brewing methods right from grind size to brewing temperature, brew ratio, brewing time, to name a few.

% section 'mailing-popup' %